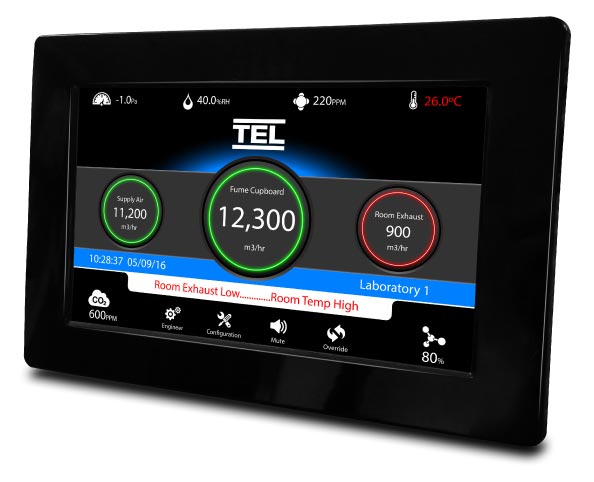 The only such Room Space Controller on the market that can communicate directly with fume cupboard systems, the AFA5000 measures precise airflow requirements of fume cupboards allowing air to be controlled exactly according to need, minimising energy consumption and allowing you the peace of mind to get on with the job at hand.
Choosing the right model for your needs
Product Benefits:
Demand control ventilation
The AFA5000 has been specifically designed to control a mechanical HVAC ventilation system in a room space without the need for a BMS system.
Increased Energy Savings
The AFA5000 can be optimised to give maximum energy savings with occupancy and out of hours' setback, reduced flow rates and comfort/air quality set points and has on board time clock schedule control.
Enhanced configuration
The AFA5000 can be configured to operate the room space ventilation based on differential room pressure, air quality control, volumetric control or any combination of the control philosophies.
Key Features:
Differential Room Pressure control
Volumetric control of Supply make-up air
Volumetric control of Room exhaust air
CO2/Humidity/VOC Demand based control
Heating control
Cooling Demand based control
Occupancy control
Time Scheduling with Setback/out of hours' control
Over Diversity status/alarms
RS485 connection to AFA1000 VAV controllers
Historical Graphical display of all active functions
Optional Expansion module with additional 6 programmable I/O connections
Local display of active functions with low and high audible/visual alarms
Password protected menu set up and configuration
7" HMI Touchscreen, wall or panel mountable
Metric / imperial units